Happy Friday! It's my birthday Sunday!!! I did my best to stack all my work meetings and things earlier this week so I could enjoy today as the start of my birthday weekend. On tap today: Taking my first outdoor SoulCycle class in NYC and getting a massage for the first time in well over a year. My upper back is SO excited for some relief.
Onto the favorites!
hosting my birthday fundraiser class on Zoom.
On Wednesday I taught a donation-based yoga class on Zoom as part of my birthday celebration. It felt like a very full-circle moment as my birthday class last year was the first time I had taught solo on Zoom.
I'm proud to say we (and really I mean YOU) raised over $500 for Our Food NYC. Thank you to everyone that came out to join, or has taken any Zoom class with me this last year. I'm so grateful for you.
And pssst…. my summer Zoom yoga schedule is LIVE! Sign up for class here.
time with friends
Last week I felt like I emerged from the cocoon I've been in since March 2020. I spent time with SO many different friends, both people that were visiting from out of town, and then local friends ready to meet up and take advantage of the gorgeous spring weather we've been having. I think it goes without saying, but wow did it feel good to spend time with my people. It's got me feeling hopeful for this summer ahead.
Springbone picnic with Leslie and Harlee
One of my friend dates was with Leslie and her cute babe Harlee. If you've been following for a few years you might remember when we hosted yoga + wellness events together.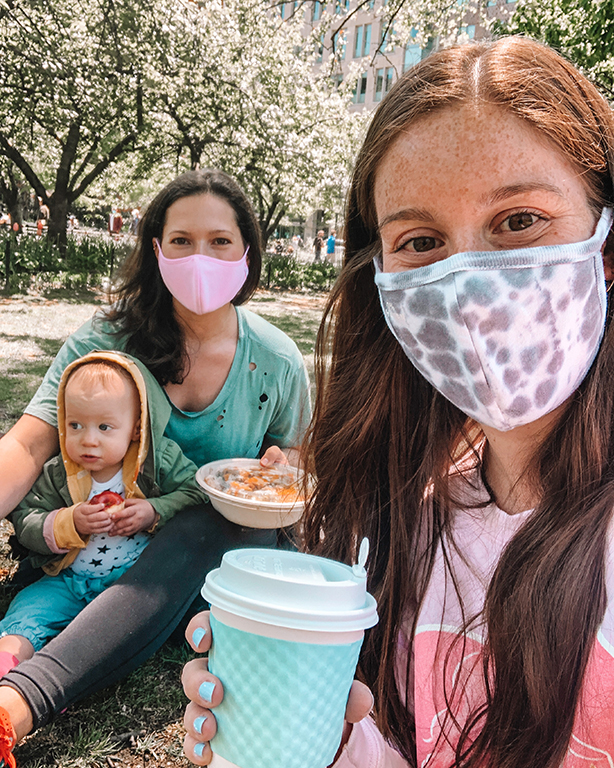 We picked up Springbone (I LOVE the Mexican chicken bowl) and ate it in Washington Square Park together. It was the perfect afternoon.
these beautiful paper flowers from Summer Space
I wanted to get my mama something a bit different for Mother's Day. Recently I connected with Poy who makes GORGEOUS paper flower creations. I knew they were the perfect unique and beautiful gift for my flower-loving mom. I haven't seen them IRL yet (next time I go visit my parents) but they were a huge hit. A great gift for just about every occasion.
eating outside at Soothr
I recently went to Soothr in the East Village with a friend. The Thai food and drinks were excellent. I highly recommend their Pad Si-Iw. On the menu it's with beef but they let us sub with a different protein.
dinner from The Boil
I've been wanting to try The Boil, a Cajun seafood place in the village for a while. My parents and I ordered a huge feast from them last weekend and we LOVED it. The lobster roll was SO SO SO good. I've had a lot of lobster rolls, but something about this one was extra special. I think it's the extra spices and flavor they add. I also really loved the soft shell crab as well as the papaya mango salad.
the game-changing threader floss
Okay, this is a bit of a weird favorite 😂
I've had brackets on the back of my bottom teeth since I got my braces off forever ago. I guess they're just going to be there forever now? Either way, they make flossing my bottom teeth a struggle. BUT this threader floss has made it SO much easier. If you also have brackets of any sort, I highly recommend it. I like that this particular floss comes in cute little individual packs.
brunch at Friend of Farmer
A friend and I got brunch last week at one of my favorite restaurants I hadn't been to in forever, Friend of a Farmer. I got the crabcake benedict which was delicious. Not dairy-free FYI. But really tasty.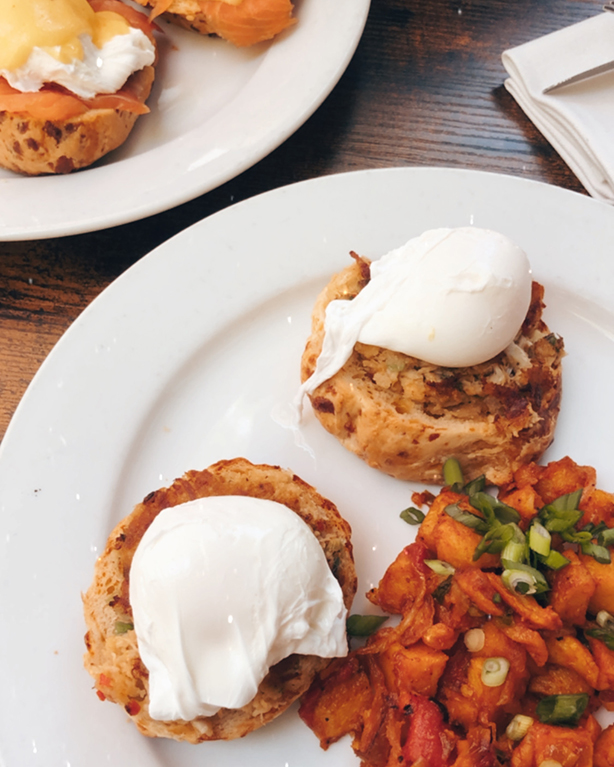 Flame hibachi
Last restaurant recommendation today, promise 😂
A friend and I accidentally ended up at Flame last weekend, a place that serves hibachi food in the Murray Hill/Gramercy area. One thing you should know about me is I absolutely loveeeee hibachi food. Hibachi rice might be one of my favorite foods, period. We didn't sit at one of the grills (I think they are open now) but instead outside. I got the hibachi shrimp with soup and of course rice. My friend and I couldn't stop raving about how tasty the food was. And now I'm in the mood for hibachi once again.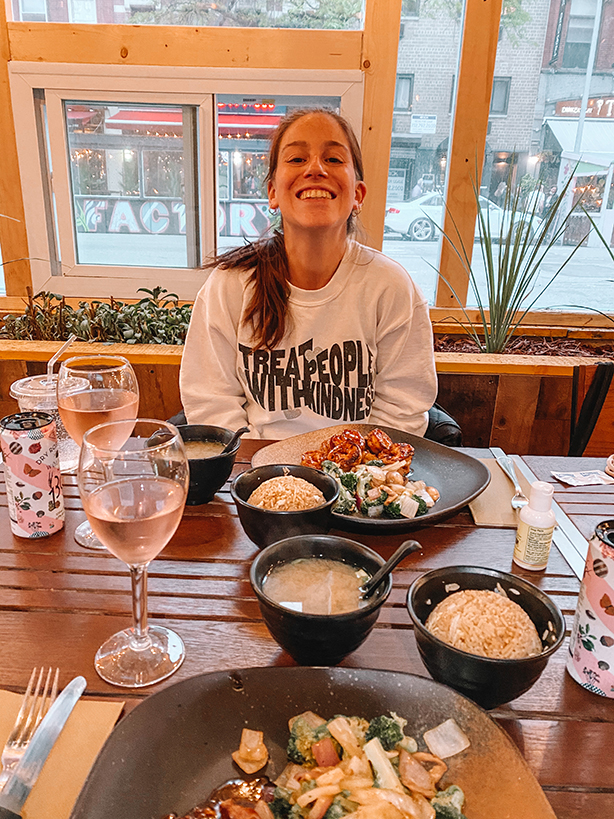 Yes, I am in my happy place: hibachi and cider 😂
this article about child-free women
Thank you to everyone that sent this article my way. I really loved it as a positive, thoughtful article on women that chose not to have kids and could relate to many of the statements.
Future Favorites: